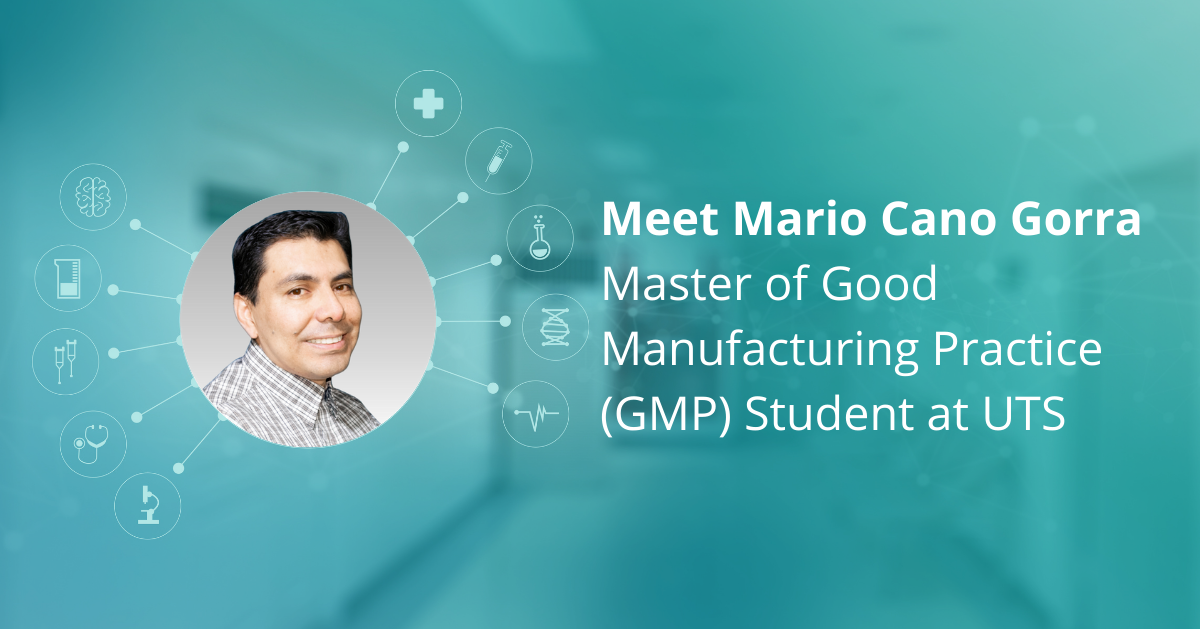 I am a Mexican-born citizen. Since elementary school, I've displayed a natural knack for biology, physics, and mathematics. Naturally, I studied a Bachelor of Science in Pharmaceutical Engineering in one of the largest and most prestigious universities in Mexico, the National Polytechnic Institute. Whilst studying I met my wife, and we have been together ever since.
As a Pharmaceutical Engineer, I gathered more than 15 years of experience in the pharmaceutical and medical devices industries – collaborating with several renowned healthcare companies as Pfizer, Abbott, MSD, and Becton Dickinson. With technology, regulation and practices constantly evolving at a fast pace, I also decided to pursue a Master of Business Administration to further develop my skills.
A strong benefit of this course is that I am learning about the different international organisations that regulate the manufacturing of therapeutic goods around the globe, such as the TGA, FDA, and the EMA. I also have the opportunity to explore a variety of good manufacturing practice guidelines used by the pharmaceutical industry to manufacture medicinal products. This specialised knowledge is the competitive advantage that I was looking for to boost my career.
"The Master of Good Manufacturing Practice provides a more holistic view of the pharmaceutical field. My professional experience narrows to the area of quality, so this course was very appealing as it explores areas outside of my expertise, such as manufacturing and supply chain."
This course is extremely rewarding, and there have been many opportunities to develop different skills. Technical knowledge is very important to me, being one of the main drivers that led me to undertake this degree. Additionally, learning in an international environment has allowed me to expand my worldview and incorporate new perspectives from my international classmates. I can even improve my English skills and enhance my global network!
Although I planned to take the course on-campus, unfortunately, the pandemic changed my plans dramatically. The on-campus experience would have allowed me to meet friends, learn about new cultures and explore facilities like the new library. However, I am very satisfied with taking classes in the online mode, and believe the demand for online studies is increasing every day.
Once I conclude my studies, I intend to look for managerial positions in the pharmaceutical field. I am also interested in opportunities to develop my professional career at an international company abroad.
Regardless of experience in the pharmaceutical field, this course will give new students a comprehensive view of the international regulations that govern the industry, and will provide a holistic view of the different steps involved in the therapeutic goods manufacturing process – from product development to its distribution.
This course will provide a sound understanding of the different areas, practices, and guidelines of the pharmaceutical manufacturing process, which will be a valuable asset in the professional field.
For me, it's an honour to be part of the UTS community!
Find out more about Good Manufacturing Practice at UTS
This article was originally published by UTS and is republished here with permission from UTS.