KENX is a leading knowledge exchange network in the life sciences industry, at the forefront of coordinating and running events focused on making pharmaceuticals and devices safer. The organisation achieves this by bringing together regulators and industry leaders to address the latest industry trends, regulatory changes, business challenges and approaches that impact the quality, safety and efficacy of products made in the life sciences industry.
One such event is the annual Computer Systems Validation and Software Assurance University, which this year, will be held in a hybrid format from San Diego, California. The event will focus on CSV/CSA and attract 200 – 300 participants from the life science industry working in engineering, validation, quality, software development, IT, and regulatory compliance. The multi-track conference offers over 40 tutorials exchanging best practices and sharing challenges including digitisation, technology advances, data integrity, critical thinking, risk analysis, evolving and traditional CSV trends and will dive into emerging challenges such as superintelligence governance, AI/ML, ChatGPT and more. A large turnout is expected in 2023, due to a myriad of regulatory guidance and trends in AI/ML, CSA, Annex 11 and more.
SeerPharma Director Ian Lucas has been invited to join a panel in San Diego, with the US FDA and industry leaders to discuss updates on CSA - The Impact on Part 11, Risk Analysis, Critical Thinking and Test Scripts. In addition, Ian will present his thoughts and insights on Validation in the world of Industry 4.0.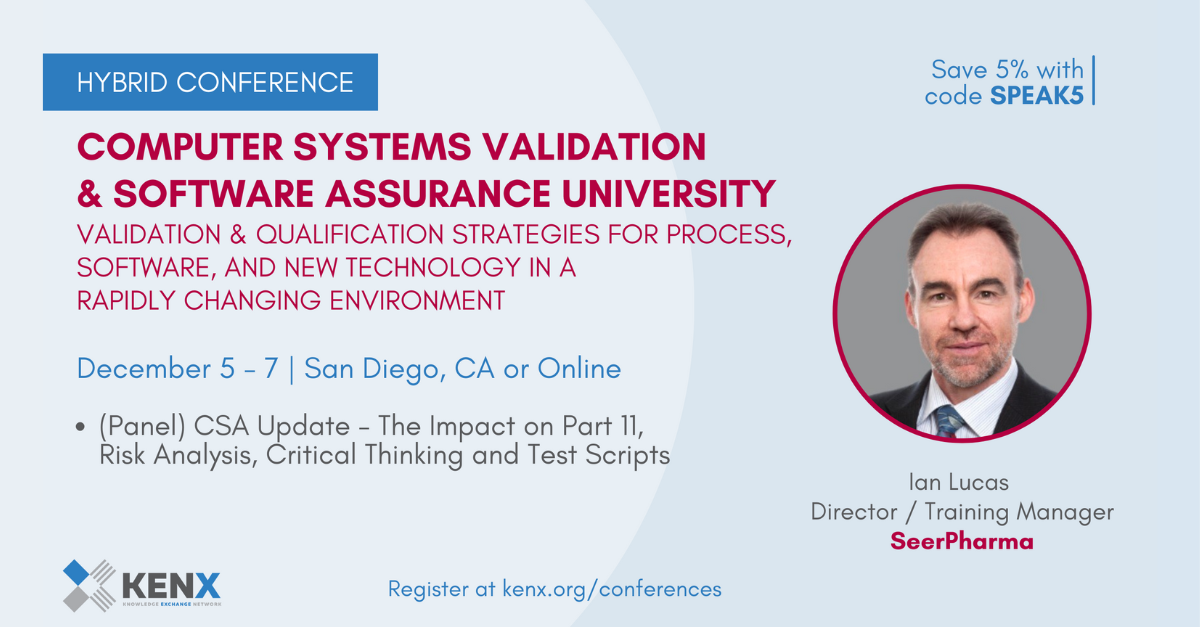 Click here for more information on this unique event
Click here to download the program
Event Details
Date: 5-7th December 2023
Venue : Hyatt Regency, Mission Bay, San Diego, CA
Attend: In person / Virtual
Being involved with initiatives such as this is just another way we re-affirm our commitment towards our mission of "Advancing Quality and GMP Best Practices".