SeerPharma has partnered with Orioled Hub to support the pharmaceutical manufacturing sector in Vietnam.
Our partnership continues to grow in the background, with impending interest from a variety of manufacturers in Vietnam for support from SeerPharma on multiple fronts.
One key area of interest is an emerging desire from Vietnamese pharmaceutical manufacturers to digitize their Quality and Manufacturing workflows. By digitizing, pharmaceutical manufacturers in Vietnam are hoping to have greater control and transparency over their operations, plus be in a position where it will be easier to demonstrate GMP compliance to relevant international standards and regulations.
Following this demand, Orioled Hub in partnership with SeerPharma and MasterControl will be holding a one-day workshop to address this topic in Ho Chi Minh City on Friday the 24th of February.
Event Details
Friday 24th of February 2023
Capella Gallery Hall - Midas Hall, Floor 8, 3 Thang 2 Street, Ward 12, District 10, Ho Chi Minh City
Pricing: Free
8:00 AM - 4:00 PM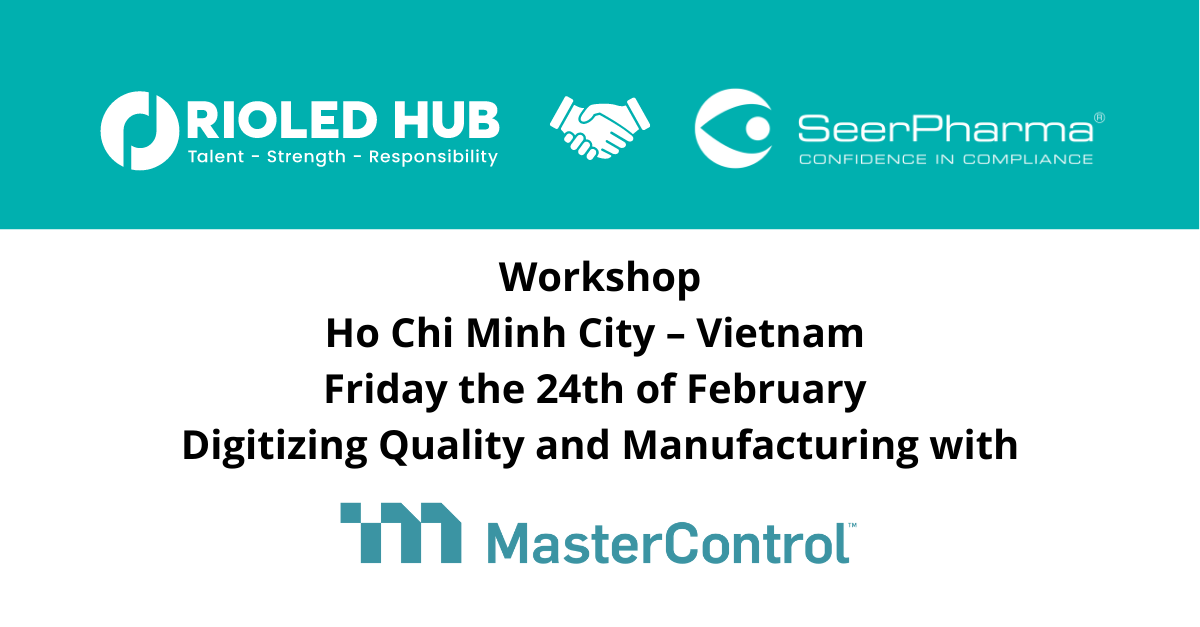 The planned agenda for the "Digitizing Quality and Manufacturing" workshop is as follows:
Time
Topic
Presenters

8:00 AM – 8:45 AM

Registration and Reception

Workshop Opening Statement

Orioled Hub
8:45 AM – 9:15 AM
Introduction to SeerPharma and MasterControl
Biju Kishor (SeerPharma)
Sara Bresee (MasterControl)
9:15 AM - 10:15 AM
MasterControl Platform Digitizing
Quality and Manufacturing
Ciaran O'Keefe (MasterControl)
10:15 AM – 10:30 AM
Morning Tea
10:30 AM – 11:45 AM
Application of Cloud Computing in Quality Management and GAMP5
Rohan Bhatia (SeerPharma)
11:45 AM – 12:15 PM
Questions and Answers
12:15 PM – 1:30 PM
Lunch
1:30 PM – 2:15 PM
MasterControl eQMS (Qx) Demo
Rohan Bhatia (SeerPharma)
Ciaran O'Keefe (MasterControl)
2:15 PM – 2:30 PM
Afternoon Tea Break
2:30 PM – 3:15 PM
MasterControl EBR (Mx) Demo
Rohan Bhatia (SeerPharma)
Ciaran O'Keefe (MasterControl)
3:15 PM – 4:00 PM
Questions and Answers
Discussions
4:00 PM
Closing Remarks
Presenters
Biju Kishor

Director / General Manager (Asia)

SeerPharma

Biju has over 20 years of commercial experience in the life science industry. He has worked with leading European and US multinational manufacturers of life science automation/robotic platforms, helping them drive sustainable profitable business growth in Australia and New Zealand. Since 2014, Biju has overseen SeerPharma's Sales and Marketing efforts bringing in best practices learnt from managing complex B2B deals and transactions. Biju is also responsible for SeerPharma's activities in Asia, with full P/L responsibility for SeerPharma (Singapore). Biju holds an MBA from Monash University, a Bachelor of Electrical/Electronic Engineering (with Honours) and a Bachelor of Science majoring in Physiology from the University of Western Australia. Biju completed his Honours in Biomedical Engineering on full scholarship at the Karlsruhe Institute of Technology (KIT) in Germany. He is a member of the Australian Institute of Company Directors (MAICD).

Rohan Bhatia

Director / Software Products and Services Manager

SeerPharma

Rohan joined SeerPharma in 2012 and now leads the Software Products and Services team. He has gained extensive experience designing, developing and implementing quality management software solutions across multiple industries. Rohan has a strong track record in Project Management, Business Systems Analysis, Computer System Validation and most importantly in delivering projects that meet and exceed customer expectations. Rohan became a Director of SeerPharma in 2019.

Sara Bresee

Managing Director, Asia Pacific

MasterControl

As Managing Director of APAC, Sara is charged with increasing awareness and market share in China, India and the rest of the Asia-Pacific region. Additionally, she is responsible for MasterControl's channel partner program worldwide. Her mission is to ensure MasterControl's Life Sciences customers in the region are successful and well-supported during their digital transformation from paper-based manufacturing environments to digital ones.

During her time as EVP of Marketing and Channel, Sara rebranded and repositioned MasterControl. Her work strengthened MC's digital demand generation foundations to enable double-digit growth. In her last role as Chief Marketing Officer for Morpho Detection, a subsidiary of the French conglomerate Safran, she architected the brand make-over and introduced growth marketing for this security manufacturer.

Sara brings more than 25 years of experience in enterprise sales and marketing. Sara worked for several valuable brands including Intel Corporation, Microsoft, McCann-Erickson, FranklinCovey, and Ford Motor Company. Sara is a Chicago native, a Michigan State University alumna, relocated her family and their cat to Singapore in October 2022. She makes a great charcuterie plate.

Ciaran O'Keeffe

Director Business Development & Channel Sales, Asia Pacific

MasterControl

Located in MasterControl's regional sales office for Asia Pacific in Singapore since 2018, Ciaran has helped dozens of pharmaceutical, medical device, and biotech organisations adopt MasterControl's Quality and Manufacturing software solutions. Ciaran holds a Bachelor's Degree in International Commerce from University College Dublin and is a fluent speaker of Mandarin Chinese.
Please contact us for more information on this workshop, and if you are interested in attending.

Initiatives such as these reaffirm our commitment to Advancing Quality and GMP Best-Practices for our industry in the Asia-Pacific region.