UTS International student Tong Zhao is a Pharmacy graduate from Liaoning Province, China, currently undertaking the Master of Good Manufacturing Practice here in the UTS Graduate School of Health. We sat down with Tong to hear her story.
I am an international student from Liaoning Province in China. Liaoning Province is a cold part of China, so snow is the first word I associate with my city. I finished my Bachelor of Pharmacy in my country and decided to pursue my Masters degree in Australia. I am the only child in my family and I had a very happy childhood in China.
I'm pursuing a career in Good Manufacturing Practice because it's a really important part of pharmaceutical manufacturing. It's vital for delivering products that meet quality standards. When I found this course at UTS, I did a lot of research about the degree. The course is a great opportunity to build on my professional knowledge, and we can seek guidance from academics during the course.
I found out about the course online, and I learnt that the MGMP is unique in Australia and the Asia-Pacific region, so this was the main reason I chose to study at UTS. In addition, UTS has been the #1 young Uni in Australia for a few years and some friends also recommended UTS for me.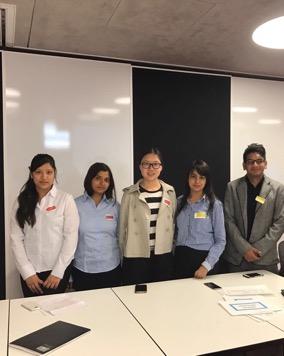 Tong Zhao (centre) pictured with fellow Master of GMP students.
The Graduate School of Health focuses on graduates who are work-ready and the programs provided by the School are highly innovative and professionally-focused.
During this course, we've had some opportunities to gain real-world experiences in pharmaceutical industries. I picked up a lot of skills in a GMP industry environment during my recent placement. In addition, the MGMP academic team are always providing us with insights from professional and experienced experts.
The industry placements have been a real highlight for me. I would like to thank UTS, SeerPharma and my coordinator Dr.Kamal Dua. Dr Kam helped us a lot during the industry placement and kept providing guidance throughout. We learned a huge amount during the placement and it all related back to what we learnt in the course.
I definitely feel like I've changed and developed during my studies. I learned how to manage my time and how to overcome challenges. I've also learnt how to work cooperatively and effectively in the MGMP's multicultural learning environment and most importantly, I made a lot of friends during my study.
Looking to the future, I plan to develop my career in China after I finish my Master degree. My ambition is to work in Quality Assurance. This course has provided in-depth and practice-based knowledge, which I believe provides me with the foundation I need to develop my future career.
Written by UTS GMP student Tong Zhao.
This story was initially published by the UTS Graduate School of Health.
You may also be interested in these posts: