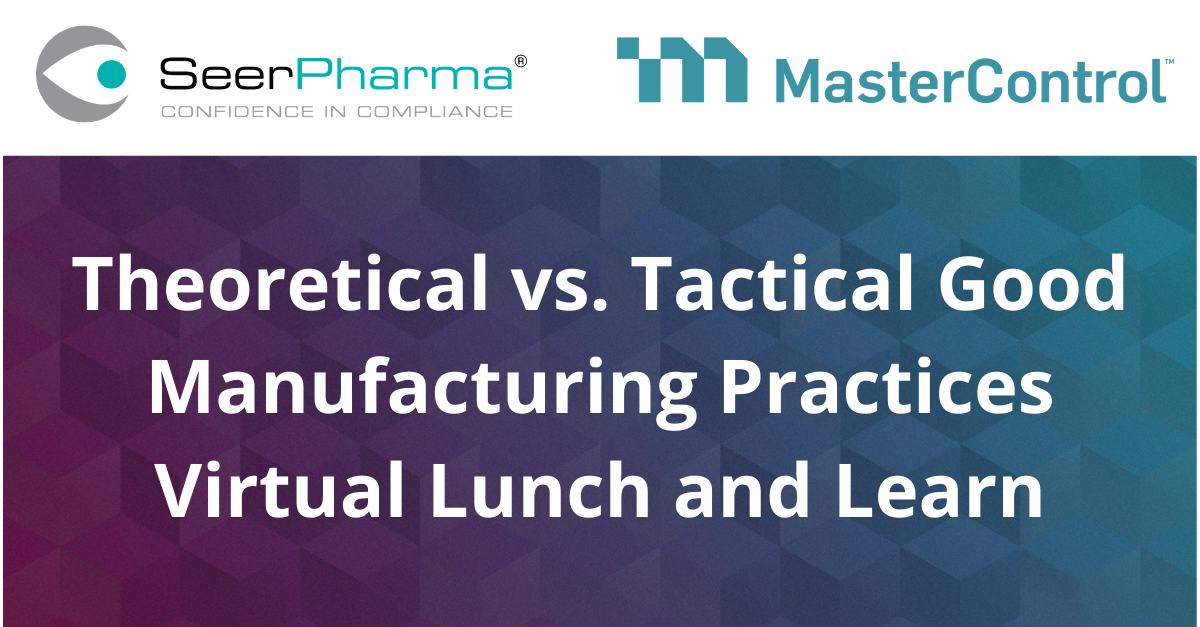 15 December 2020 | 12:00 p.m. AEDT
It's vital to follow the latest good manufacturing practices. But what are the most efficient and effective ways to put GMP theories into action on your shop floor? Join MasterControl's Ciaran O'Keeffe and Luana Carone as they welcome David Spaulding and Rohan Bhatia from SeerPharma for this free lunch and learn session on a proven approach to GMP success.
Proposed agenda (15 December 2020, 12-1pm AEST):
5 min introduction: MasterControl Manufacturing Excellence (Ciaran O'Keeffe, MasterControl)
30 min presentation: Theoretical GMP : Data Integrity and Implications of Paper in Production (David Spaulding, SeerPharma)
15 min demonstration: Tactical GMP: Removing Paper from Production with MasterControl Mx (Luana Carone, MasterControl)
10 min Questions & Answers
Ciaran O'Keeffe
Sr Manager, Business Development, Asia Pacific, MasterControl

Located in MasterControl's regional sales office for Asia Pacific in Singapore since 2018, Ciaran has helped dozens of pharmaceutical, medical device, and biotech organisations adopt MasterControl's Quality and Manufacturing software solutions. Ciaran holds a Bachelor's Degree in International Commerce from University College Dublin and is a fluent speaker of Mandarin Chinese.

Luana Carone
Solutions Consultant for APAC, MasterControl

Based in MasterControl's Melbourne, Australia office, Luana has more than 17 years of experience in life sciences. She holds a bachelor's degree in Biological Science, a Diploma in Quality Auditing, and a certification from Exemplar Global as an ISO 9001 auditor.

David Spaulding
Partner & Training Manager, SeerPharma

David has over 30 years' experience in pharmaceutical manufacturing (in roles such as R&D chemist, Production Manager, Logistics Manager, Sales & Marketing Manager and CEO. In his current role, David oversees SeerPharma's Training Division and our collaboration with the University of Technology Sydney, to offer Asia-Pacific's sole Postgraduate GMP course.

Rohan Bhatia
Partner & Software Products and Services Manager, SeerPharma

Rohan has gained extensive experience designing, developing and implementing quality management software solutions across multiple industries. Rohan has a strong track record in Project Management, Business Systems Analysis, Computer System Validation and most importantly in delivering projects that meet and exceed customer expectations.
COVID-19 has made it necessary to adjust our Lunch and Learn events, but we remain committed to quality education, excellent networking and great eats. We'd love for you to join us for this free virtual event, offering the great sharing of knowledge you've come to expect. As a bonus, all attendees who tune in for at least 45 minutes will receive a $75 gift card.
SeerPharma has been a business partner of leading software solutions provider MasterControl since 2018. With over 25 years of experience implementing quality management software solutions, SeerPharma is very excited to expand the software offering to our customers from QMS to also include Manufacturing Excellence (Mx) in the Asia-Pacific region. You can learn more about MasterControl's Mx solutions like electronic Batch Records (eBR) at https://www.seerpharma.com/mastercontrol/manufacturing-software-solutions.